Mageia.Org
Mageia 5 has been delayed cause we want to provide the best experience to our users.
NEW PACKAGES – CAULDRON
mono project released a new minor release shipping fixes for CVE-2015-231[89], CVE-2015-2320. It's all about the TLS's mono implementation that was causing some issue with TLS impersonation. You can find details here (some refining is still needed but it seems to work).
Now we are on release freeze, that means that until the final release cauldron repos cannot receive new versions neither new releases of packages.
MAINTENANCE – MAGEIA 4
The TLS's mono implementation was exposing users to TLS impersonation attacks also on the previous versions of mono thus I had to provide fixes also for the package for mageia 4. It has been quite a time-consuming task.
UIABSTRACTION4MCC – ADMINPANEL MANATOOLS

Finally we moved to the final name of our project and a few improvements have been added to manaclock and manawall.
manawall now uses a specification file for servers and ports: previously (as it was in drakfirewall) each server was specified statically inside the code alongside with ports, labels and so on.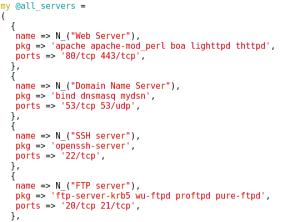 manawall now retrieves servers from a well-formed xml file, easiest to maintain; this change causes some issue with nfs still to be worked out but, the huge part of the task has been successfully completed 😉
See you next month and… thanks for reading